People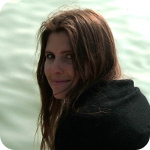 I recently completed by PhD at Columbia University, where I studied stable individual differences in reconciliation in humans and chimpanzees. For my dissertation, I investigated the basic motivational underpinnings of this post-conflict behavior in both species. As an undergraduate at Emory University, I was a research assistant at the Living Links Center, studying social behavior/cognition in brown capuchin monkeys. In the following year, I gained additional research experience as both a research coordinator in New York and a field assistant in South Africa. For my post-doc, I am returning to my alma mater and will be conducting a research project on the chimpanzees at Arnhem Zoo in The Netherlands. I am currently interested in consistent individual variation in movement and sociality, and look forward to continuing to explore individual differences in post-conflict behaviors.
Selected Publications

Webb, C.E. & Verbeek, P. Cross-species comparison of phenotypic flexibility in aggressive and peaceful behavior. (in forthcoming Special Issue of Behaviour)

Webb, C.E., Franks, B., Romero, T., Higgins, E.T. & de Waal, F.B.M. (2014). Individual differences in chimpanzee reconciliation relate to social switching behaviour. Animal Behaviour, 90: 57-63.

Pokorny, J.J., Webb, C.E., & de Waal, F.B.M. (2011). Capuchin monkeys show specialized face processing with an inversion effect modified by expertise. Animal Cognition, 14(6): 839-846.

Last updated: July 8, 2015

Top